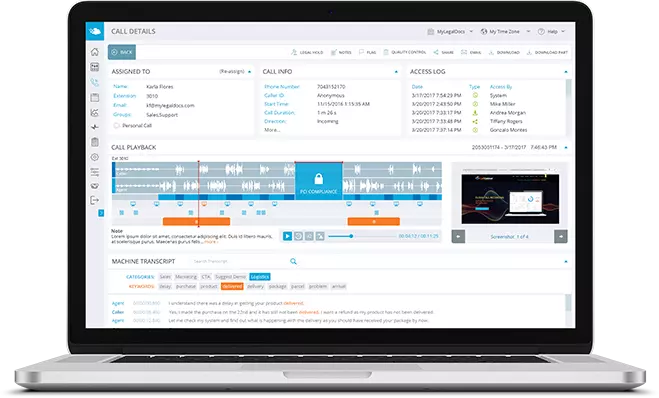 CallCabinet Careers
The success and growth of CallCabinet is attributable to our immensely talented and dedicated team members. Join a global team at an award-winning company.

Customer Success Specialist
Corporate HQ in Boca Raton, FL or Remote option
We seek a customer success team member to join our growing corporate team. The ideal candidate will have a strong project management and onboarding background and a passion for providing the best customer experience during every interaction.
Job Overview:
Responsible for managing the complete life cycle of customer projects and partner on-boarding, sold by CallCabinet's sales team, including planning, execution, and closeout to ensure planned results are achieved on time in order to successfully deploy solutions and bring partners to market. Develops timelines and ensures progress to plan, as well as tracking critical project activities and milestones. Works with a cross-functional team including the customer/partner, sales, implementation, training and development to establish and achieve goals. Defines the project's objectives and ensures progress to plan, as well as tracking critical project achievements. Acts as a key contributor in a complex and crucial environment. May lead teams or projects and share expertise.
Key Responsibilities:
Uses formal processes and tools to manage resources, tasks and changes.
Utilize project tracking tools and systems to accurately document milestones completions, project issues, project jeopardies, and overall project completions.
Develop and maintain project schedules and calendars with the input from customer/partner and project team.
Manages all assigned projects to completion ensuring on-time delivery, meeting of budgetary demands, and maintaining overall project ownership.
Acts as a single point of contact for project status. Maintains communication with stakeholders and customers.
Track and manage tasks assigned to the internal teams to meet client deliverables while distributing regular status reports to stakeholders and customers.
Facilitates and leads project meetings.
Consistent exercise of independent judgment and discretion in matters of significance.
Build strong communication channels with client and internal departments such as Sales, Implementation, Training & Engineering.
Demonstrate professionalism by responding to emails promptly, actively participating in meetings, ability to explain issues effectively, providing updates, maintaining records, working with other departments, and understanding the impact of your role to the overall business.
Identify, monitor, report and escalate project-related issues to achieve timely resolution.
Regular, consistent and punctual attendance.
Other duties and responsibilities as assigned.
Establish clear retention goals and process milestones for the client and employees to work toward.
Assist customers as needed with setting up and navigating programs or software associated with a product or service.
Review customer complaints and concerns and seek to improve all aspects of the customer experience with the company.
Promote an energetic fan base for products and locate brand ambassadors to share the product's benefit and value.
Maintain a detailed understanding of products and services, assist customers with questions and suggest the best products for their needs.
Optimize existing processes within the company and actively enhance all Customer Success initiatives.
Required Skills and Qualifications:
BA/BS or Equivalent.
3-5 years project management experience, preferably in the telecom industry.
Effective communication skills, both oral and written.
Ability to determine priorities.
Ability to coordinate and interact with all levels of customers (internal and external).
Proficient in MS Office and Google Suite.
Experience working with brand image and promoting value through customer experience.
Exceptional ability to communicate and foster positive business relationships.
Technical skills required, as they relate for the use of the product to service to be solid.
Accountability and personal organization are essential.
Experience in managing a diverse group and training each according to company standards.
Ability to establish milestones and keep all team members on task.
Experience analyzing and optimizing the existing processes in the Customer Success department.
Deep understanding of customers concerns and thoughts regarding the use of products, and the ability to troubleshoot as needed.
About Us:
CallCabinet is the pioneer of cloud-native call recording software as a service. Our flagship product, Atmos, is a groundbreaking platform that has revolutionized the way industries such as banking and finance utilize compliance recording mandated by law. Atmos is the world's first cloud-native compliance recording solution, allowing businesses in multiple industries to comply with regulatory requirements regardless of where their employees are located. CallCabinet is currently experiencing unprecedented growth as businesses become decentralized as a result of the global pandemic. As a result, we are swiftly expanding our team with top talent.
Headquartered in Boca Raton, Florida, CallCabinet has additional regional offices in Australia, Germany, South Africa and the United Kingdom.
If you are interested in the position offered, please complete your details below:
Make Smarter Calls With Atmos
Proud recipient of these awards from respected industry associations.