Vodia PBX Call Recording,
Quality Assurance, Analytics & AI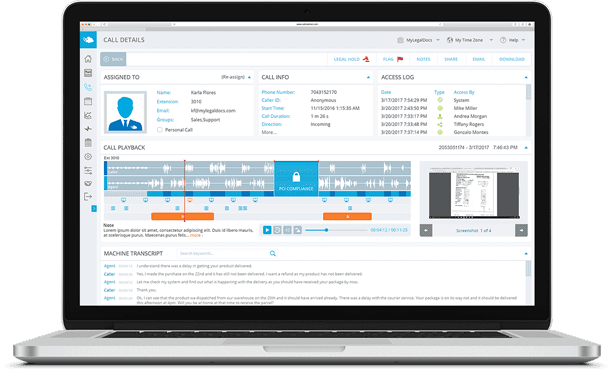 Atmos brings its award-winning interaction compliance, quality assurance, agent evaluation, and analytics to users of Vodia PBX products.

Compliance Legally Protects Your Company
Policy violations that occur over the phone demand swift and proactive correction.
Can a phone call make or break a company? No matter the size of your organization, or what products and services you offer, in order to protect your business and your customer's data, all call interactions need to be legally compliant. Policy violations that occur over the phone demand swift and proactive correction. Atmos provides call recording automatically, or on-demand with encrypted, 256-bit AES encryption, meeting or exceeding compliance laws (PCI DSS, HIPAA, GDPR, MiFID II, Dodd-Frank and many more). Questionable interactions and violations no longer need to be found through random call sampling. Atmos' voice-to-text transcription allows supervisors the ability to search for keywords and phrases, focus on particular agents and/or customers, and even groups.

ATMOS DELIVERS CALL RECORDING AS A SERVICE TO YOUR VODIA NETWORK
For too long, smaller companies have struggled to keep their customer interactions industry-compliant due to the overwhelming cost of hardware-based call recording solutions.
Companies like Vodia have pioneered a path for SOHOs and SMEs to enjoy the same rich features their enterprise customers enjoy. CallCabinet Atmos singularly offers Vodia users not only simple access to compliant call recording via the Cloud, but also a host of AI-driven features like agent evaluation, dispute resolution, QA, keyword / key phrase recognition and much more.

ATMOS INTEGRATES SEAMLESSLY WITH YOUR VODIA PBX
Whether you're a SOHO, an SME, or a large enterprise, Vodia was your choice of PBX because of the deep-seated features and renowned reliability they're known for.
Until this point, recording calls from your PBX was complicated, time-consuming, and cost-prohibitive for smaller companies. But now Vodia customers of any size can eliminate the burdensome investment in traditional call recording, stay free from inflexible contracts, and avoid the deep cost of premise-based hardware altogether. CallCabinet Atmos easily integrates with your Vodia PBX network to bring you Cloud-based call recording and QA as an affordable monthly service.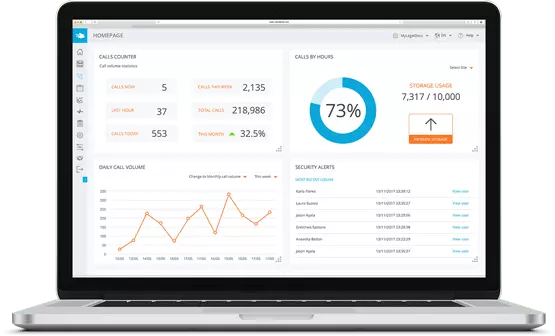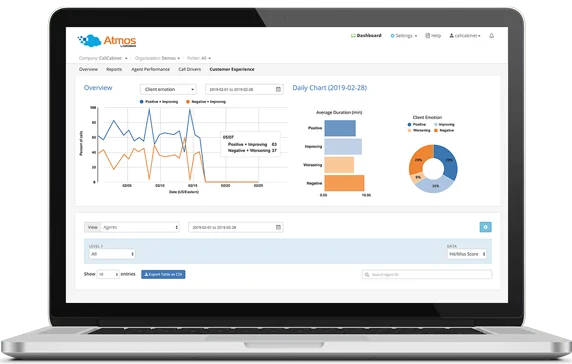 We designed Atmos knowing full well that your company's legal protection is at the top of your compliance needs.

COMPLIANCE OVER MULTI-TENANT NETWORKS
Perhaps your operation is multi-tenant, meaning it's spread over multiple geographical locations.
Many companies find out too late that sharing call data from one site to another breaches compliance and security. We've developed a secure compliance share feature using the Cloud-based Atmos Call Network. Atmos is built for easy and rapid deployment over multi-tenant networks, even if you use Vodia at one site and a different PBX or UC system at another site. CallCabinet Atmos unifies your entire operation's call network for compliance and customer satisfaction, all through a cost-effective, scalable, month-to-month subscription.

ENABLE CALL RECORDING IN MINUTES
You selected Vodia to simplify your IT operations without losing features. Your call recording and QA Analytics solution shouldn't violate that premise.
CallCabinet Atmos is deployed across your network with a simple script in minutes. No more waiting for days, weeks, or months to install self-obsoleting hardware. No more tying up your IT resources with update rollouts and compatibility issues. Atmos integrates instantly with your Vodia PBX over SIP and maintains itself from the Cloud leaving you to concentrate on growing your business.
Call Recording and compliance for Vodia solutions of any size
Fully customizable reporting and analytics
Complete agent interaction management
Synchronized agent screen and audio capture
Cloud-Based recording
PCI Compliance Masking and artificial intelligence solutions
No hardware to install or maintain
Advanced voice analytics
Pay-as-you-grow Call Recording as a Service
Meets GDPR, MiFID II, HIPAA, Dodd-Frank & many other Compliance Regulations
Scale agents and usage up and down as needed
Five-Nines Reliability (99.999% availability)
ARE YOU A CARRIER OR SERVICE PROVIDER?
We've developed Atmos with you in mind.
Partner with us