Call recording and Agent evaluation with a difference
Recording Anyone, Anywhere on Anything!
Atmos makes it easy to improve quality, customer experience and agent performance.

Atmos gives you a 360 degree view of customer touch points and allows you to track how employees handle specific customer situations, interactions and day-to-day activities, all from one screen!
An All-In-One Customer Experience
Call Recording
Screen Capture Option
Employee Evaluation
Employee Training
PCI DSS Call Masking
Compliance Support
Call Tagging
Call Detail Information
Atmos is designed to be operational in minutes. Our intuitive web interface makes it easy to navigate through calls and playback from a single screen. With just a simple tutorial, you can be up and running without losing valuable staff time to training.
With our Atmos service, you can pay as you grow! Scale up or scale down as needed simply by increasing or decreasing monthly licenses. If your needs change, Atmos PLUS can add screen capture, employee call evaluations and PCI compliance to your existing service simply by adding to your subscription! Atmos takes the worries out of recording your calls and makes it easy to manage your customer communications!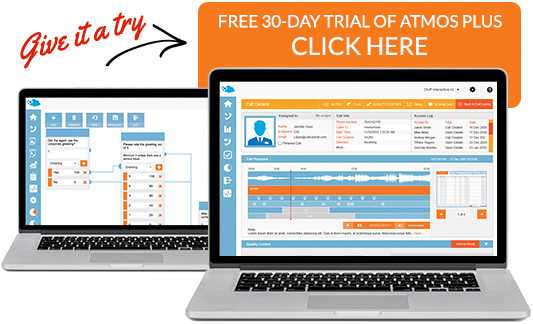 Record

using our award winning technology

Encrypt

to meet global compliance

Store

in a network of global data centers

retrieve

with our secure user interface

Evaluate

& easily monitor your employees

Report

& analyze with reports & analytics
Atmos offers several layers of data protection, which exceeds compliance standards. In addition, through our Atmos PLUS PCI/DSS software option, Atmos will redact all parts of the conversation where Personal Credit Information is disclosed, including screen captures. Upon playback, all of the PCI data is redacted, thus leaving blank spots in the recording, while marking both the playback and the screenshot file with safety compliance notifications.
With Atmos, your calls are stored in a secure, 256 bit AES encrypted environment. This ensures that your data is not vulnerable to cyber attack. CallCabinet uses the latest in Microsoft Data Security, along with Microsoft Azure Servers to protect your calls, while applying our own level of encryption that safeguards our customers. Test drive Atmos at no cost and find out why Atmos is at the forefront of the Call Recording Revolution!