Enterprises using Cisco Jabber can now enjoy award-winning call compliance, quality assurance, agent evaluation, and analytics with CallCabinet Atmos.
Service Providers Depend on JABBER and CallCabinet

Call Recording From Anywhere
For years now Jabber has been used by Cisco customers needing presence, messaging, and voice calling through a softphone interface.
Because it allowed effortless collaboration with a wide variety of devices, Jabber had proven to be an indispensable tool, but it lacked an inexpensive, unburdensome method of call recording. Previously, recording Jabber calls required server integration to the Cisco CUCM using technologies like Built-In-Bridge or CUBE.
Now that's changed—CallCabinet has released Atmos for Jabber, a standalone Jabber call recording client that's deployable across the LAN or globally. Most importantly, Atmos for Jabber requires no integration within the Cisco infrastructure.
Whether you are looking to record internal or remote Jabber agents, Atmos for Jabber is your solution. Atmos for Jabber deploys in minutes and allows you to record mobile agents from any location, with compliance, through limited support from your IT personnel.
Agents themselves can install and operate Atmos for Jabber on their own PCs. Instead of waiting weeks or months for an IT validation of your recording platform, your global Jabber call staff can be up and recording calls in minutes.

Compliance To Suit Your Needs
Depending on your requirements, agents can manually record calls, or have them automatically recorded while the application runs silently in the background.
Atmos for Jabber also allows the capture of pertinent call metadata, disposition codes, and other vital information that can be searched and reported from the standard Atmos portal.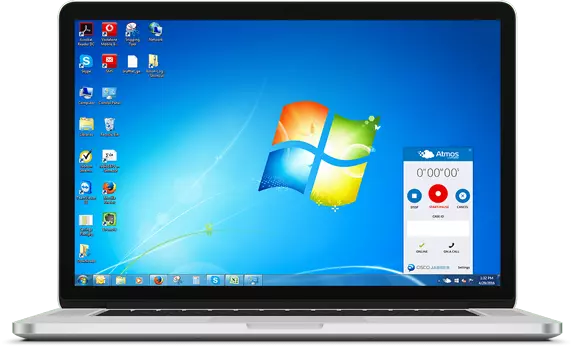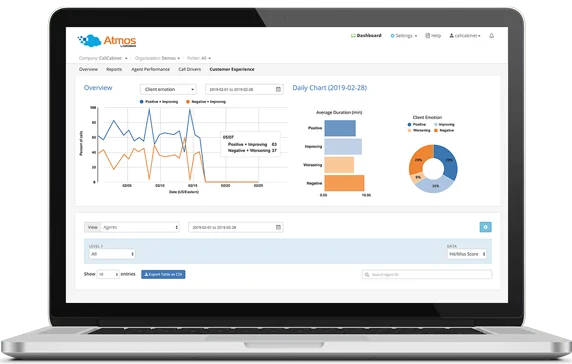 Companies are moving away from all-or-nothing call recording solutions that force them into soon-obsolete hardware deployments.
Atmos: Jabber's Only Custom Recording Application
Atmos for Jabber is custom-designed to give Cisco Jabber users access to our award-winning features, regardless of their location. Calls stored on the Atmos network can be transcripted, analyzed, shared, and even mined for compliance, performance, and new opportunities. Using call metadata, speech-to-text transcription, keyword / key phrase detection, and voice sentiment analysis provides companies a 360-degree view of their customers and agents.

Scalable and Adaptable Call Recording as a Service
Atmos is offered as an affordable monthly service that scales in price with usage.
Cisco Jabber customers can easily pick and choose the features they need with optional licenses. Is your Jabber agent base growing, or does it change seasonally? Atmos automatically scales to suit the number of connections you require, billing only according to usage, saving you money. Atmos is the pioneer in Call Recording as a Service, and it couldn't be easier to implement.

Unlimited Call Throughput Via a Single Connection
To support the Jabber platform, only a single connection is necessary, no matter how many users, departments, customers or extensions are running on the network.
With a network-to-network connection, CallCabinet utilizes Cloud technology providing unlimited throughput between the Jabber platform and the Atmos network.
Call recording compliance for Jabber-enabled desktop softphones
Complete agent interaction management
Deploys in minutes without the need for IT Support
Fully customizable reporting and analytics
Records jabber conversations without the Cisco CUCM or Built-In-Bridge
PCI compliance masking
Manual and automatic call recording
AI-driven voice analytics for sentiment, emotion and content analysis
Unlimited throughput over a single connection
Meets GDPR, MiFID II, HIPAA, Dodd-Frank & many other compliance regulations
Unlimited scalability and storage
High availability, Five-Nines reliability (99.999% availability)
ARE YOU A CARRIER OR SERVICE PROVIDER?
We've developed Atmos with you in mind.
Partner with us