For the sixth consecutive year, CallCabinet won the Communications Solutions Product of the Year Award from TMC.  We are thrilled to receive this recognition for our innovative compliance recording solution for Microsoft Teams interactions, including voice, video and screen sharing.  Our team continues to push the boundaries of call recording, voice analytics and QA by developing the modern, work-from-anywhere compliance platform of choice for businesses in heavily regulated industries. CallCabinet is the world's most flexible and scalable solution for companies that use MS Teams and require the highest level of security and compliance.
As the pioneers of cloud-native customer interaction recording, we knew CallCabinet's infrastructure needed to be UC-friendly, PBX-agnostic and offer the ultimate in flexibility and scalability. As a cloud-native solution, we ensured its core design focused on a rapidly deployable SaaS solution for any communication scenario. From the beginning, we engineered CallCabinet to work-from-anywhere, before it was a requirement for businesses.
Business Continuity for a Work-From-Anywhere Workforce
Our workforce is rapidly evolving around a hybrid model. Circumstances over recent years have caused us to rethink business continuity plans. The work-from-anywhere revolution has generally proved to be a success for industries that can give their customer service agents the autonomy to work remotely.
But your customer support departments will appear as a single entity only so long as their communication standards remain uniformly high. We think that a unified standard starts with connecting the call recording platform with quality assurance applications. Our AI and speech recognition capabilities make CallCabinet one of the most powerful tools to extract actionable business intelligence.
We envisioned a platform that lets a company reach out and monitor the quality of its customer interactions regardless of how or where that company's workforce is deployed. CallCabinet uses the cloud to bring scoring, emotive detection, and trend analysis to any and every call center deployment model. It's impossible to imagine a call recorder that does everything CallCabinet does without using the cloud. While it has been challenging to redesign how and where the workforce meets the customer, CallCabinet was designed to bring liberation to companies that need compliance and QA.
Accolades from TMC
Rich Tehrani, the CEO of TMC, a global, integrated media company, had this to say about CallCabinet:
"Congratulations to CallCabinet for being honored with a Communications Solutions Product of the Year Award," said Rich Tehrani, CEO, TMC. "CallCabinet is truly an innovative product and is amongst the best communications products and services available on the market today. I look forward to continued excellence from CallCabinet in 2021 and beyond."
Ryan Kahan, CallCabinet Group CEO, stated, "We are excited to be recognized by TMC for the Communications Solutions Product of the Year Award for exceptional enhancements we have made to our Microsoft-certified solution over the past few months. Our MS Teams video and screen share compliance recording solution is unmatched within the industry, delivering our partners with everything they need to gain actionable insights from their MS Teams voice, video and screen share interactions."
Read the full press release here.
The Future of CallCabinet
We never stop pushing the limits to help our clients modernize their customer experience and drive revenue.If you have a new feature recommendation or product enhancement idea, we want to hear from you! Please share your thoughts and recommendations here.
---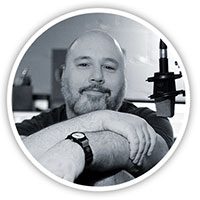 Brian Gocher
Brian is a freelance technology writer and media editor based out of Central New Jersey. He's logged 20 years of experience in the Telecom industry and side-hustles in the record industry. Brian started his career in technology at a company that made analog modems. He migrated to a marketing career in the call recording industry where he learned exactly how and why calls are monitored for quality assurance. These days Brian fuses his skills together to deliver his researched observations about telephony and compliance laws in polished articles and videos. He's also composed the music for a long list of big Hollywood trailers. He does not miss the sound of analog modems but he is endlessly fascinated with phones.