Is Customer Data Safe In The Cloud?
Data security chiefs and enterprise managers know the risks of unsecured customer data. Data thieves have already proved that on-site hardware security systems are vulnerable. CallCabinet recommends you modernize your data security and end your dependence on easily penetrated on-site networks. Cloud storage solves security concerns on several levels. Let's examine some demonstrable benefits of modernizing your storage in the Cloud.
Cloud data storage is highly secure
CallCabinet uses Microsoft's Azure for our cloud storage, which we regularly run penetration tests on. Azure's fabric is maintained by people whose sole job is to upgrade, update, and monitor the cloud fabric your data is protected in. This lifts maintenance and security burdens off your operational resources.  
Encryption stops thieves in their tracks
Encryption, in short, is the process of scrambling data so deeply that it can only be reassembled with a key. In the unlikely event any customer data is stolen from cloud storage, we recommend a 256-bit AES military-grade encryption on a rotating methodology that makes the data entirely useless to data thieves. Our Atmos platform addresses both compliance concerns with Cloud storage and the highest possible encryption standards. 
Why isn't my data more secure on-premises?
When you choose on-prem storage, you're subject to a host of vulnerabilities that are beyond your control; hard drive failure, power blowouts, gaps in on-site infrastructure, and so forth. Failure in any of those instances will cost you data loss, or worse, theft. It's in the Cloud that resilience, security, and compliance all meet.
I don't need to send call data outside my company
In some instances, a company is self-contained and needs only to keep call data on-site. Having an onsite hardware-based system for your call data has worked for years and will suit you just fine for the foreseeable future. Totally understandable. And that's all good and fine until a natural or human-triggered disaster steps in, and suddenly you need a backup of your backup. The cloud is the best way to manage offsite backups, and you'll thank yourself for setting it up when the day comes you need it because compliance laws can't be reasoned with. You will be fined and penalized if your data is lost, even in a catastrophe. Redundant, encrypted, off-site call data stored across global data centers are not only a bottom-line saver, it's available for use even if your facility is offline. If your recording platform is cloud-based as well, you'll even continue to record the calls in your other data centers or from your remote agents. Speaking of remote agents, let's take a look at the risks and solutions surrounding employees working outside the office.
The Cloud is the safest location for remote agents
The rise of the remote workforce has added numerous challenges to enterprise security chiefs. Remote employees make up a rapidly growing part of the global workforce, and the Cloud's elimination of centralized call storage has never been more needed. A fully Cloud-based solution allows users to compliantly record calls from remote employees as easily as on-site extensions. More importantly, it removes the security dangers of user-maintained storage in your remote workforce, bringing compliant recording and storage to the remote employee without sacrificing any security standards. 
Cloud storage is safe and compliant 
The intuitive security measures the Cloud is built around forms a rugged frontline defense that shuts down a growing number of internet data theft schemes. Talk to us today about Atmos' Cloud-based recording, encryption, storage and the host of other features it offers.
---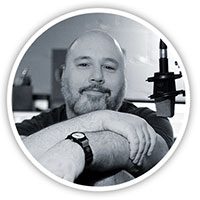 Brian Gocher
Brian is a freelance technology writer and media editor based out of Central New Jersey. He's logged 20 years of experience in the Telecom industry and side-hustles in the record industry. Brian started his career in technology at a company that made analog modems. He migrated to a marketing career in the call recording industry where he learned exactly how and why calls are monitored for quality assurance. These days Brian fuses his skills together to deliver his researched observations about telephony and compliance laws in polished articles and videos. He's also composed the music for a long list of big Hollywood trailers. He does not miss the sound of analog modems but he is endlessly fascinated with phones.