Microsoft Teams is a powerful collaboration tool for phone, chat, and video. Recording Teams calls requires a 3rd party recorder like CallCabinet Atmos. In this article, we'll cover how to record Microsoft Teams calls using Atmos as your recorder of choice.
Microsoft Teams Call Recording Methods
With Atmos, there are two ways to record Microsoft Teams calls:
Method 1: Cloud-based Recording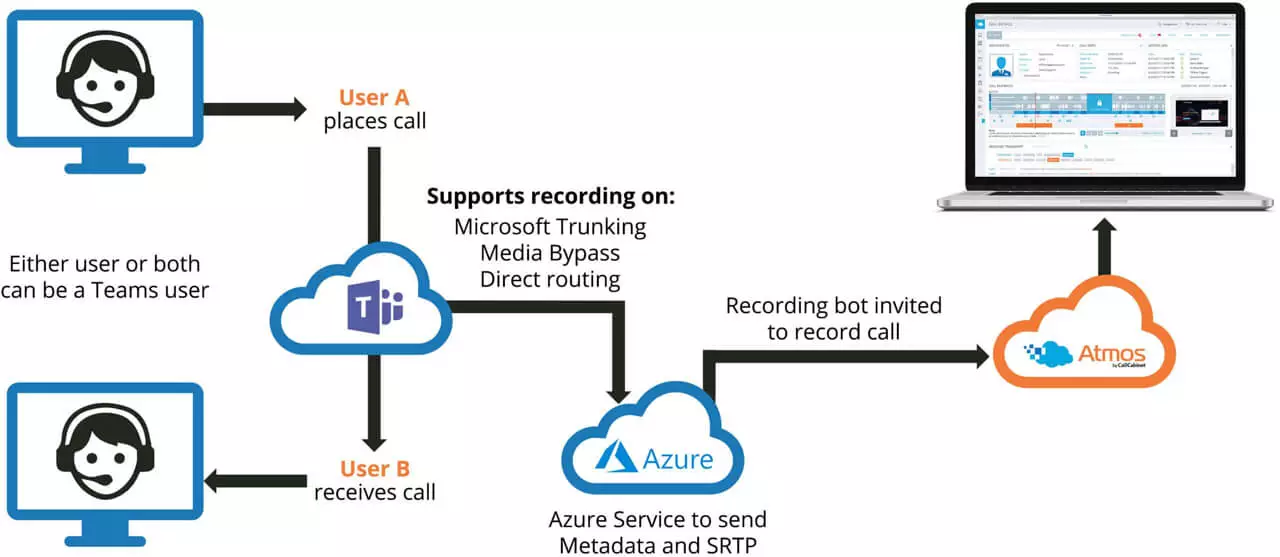 With this method, Microsoft Teams calls are recorded through a certified Cloud-native solution like Atmos. Conversations are captured as they occur in the Microsoft Azure Cloud through our integration with the Microsoft Teams infrastructure and APIs. When recordings are captured in a Cloud-native environment, all data is secured with 256-bit military-grade encryption, there's no limit on throughput, and the operation is infinitely scalable.
With the Cloud-based method, a "bot" is installed into the customer's Azure space that starts recording automatically and transparently when a call occurs in the user's Teams service. Call recordings are then available through the customer's Atmos portal (which is hosted in the CallCabinet Azure space).
Method 2: Desktop Recording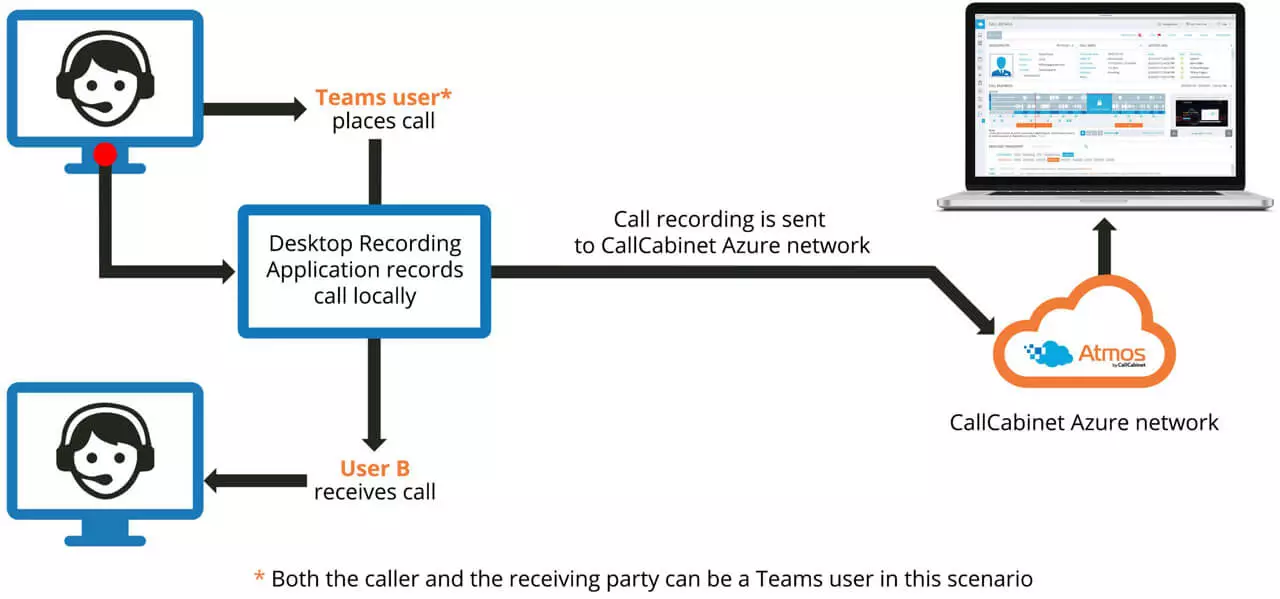 With a desktop recording method, call audio is captured on the agent's computer using an executable application like the Atmos Desktop Recorder. Once recording is complete, the call metadata and encrypted recording are transferred directly from the agent PC to Atmos in the Cloud. Call data moves from there to the user's Atmos account in the Cloud, where it is available for playback and any other Atmos applications the customer has a license for.
Which Method for Microsoft Teams Recording Should You Choose?
Key Factors to consider:
Determine your call recording needs. Both methods can provide compliance recording, but the desktop method can provide basic recording without the added cost of additional Microsoft licensing.
Do your Teams users use a soft client or standard desktop phone (e.g., Polycom)?

Soft Client – both Cloud-based and desktop methods will work.
Desktop Phone – requires the Cloud-based method.

If you aim to capture chat, video, screen sharing or mobile Teams users, the Cloud-based method is required.
The following table is a detailed comparison between the two recording methods before making your final decision.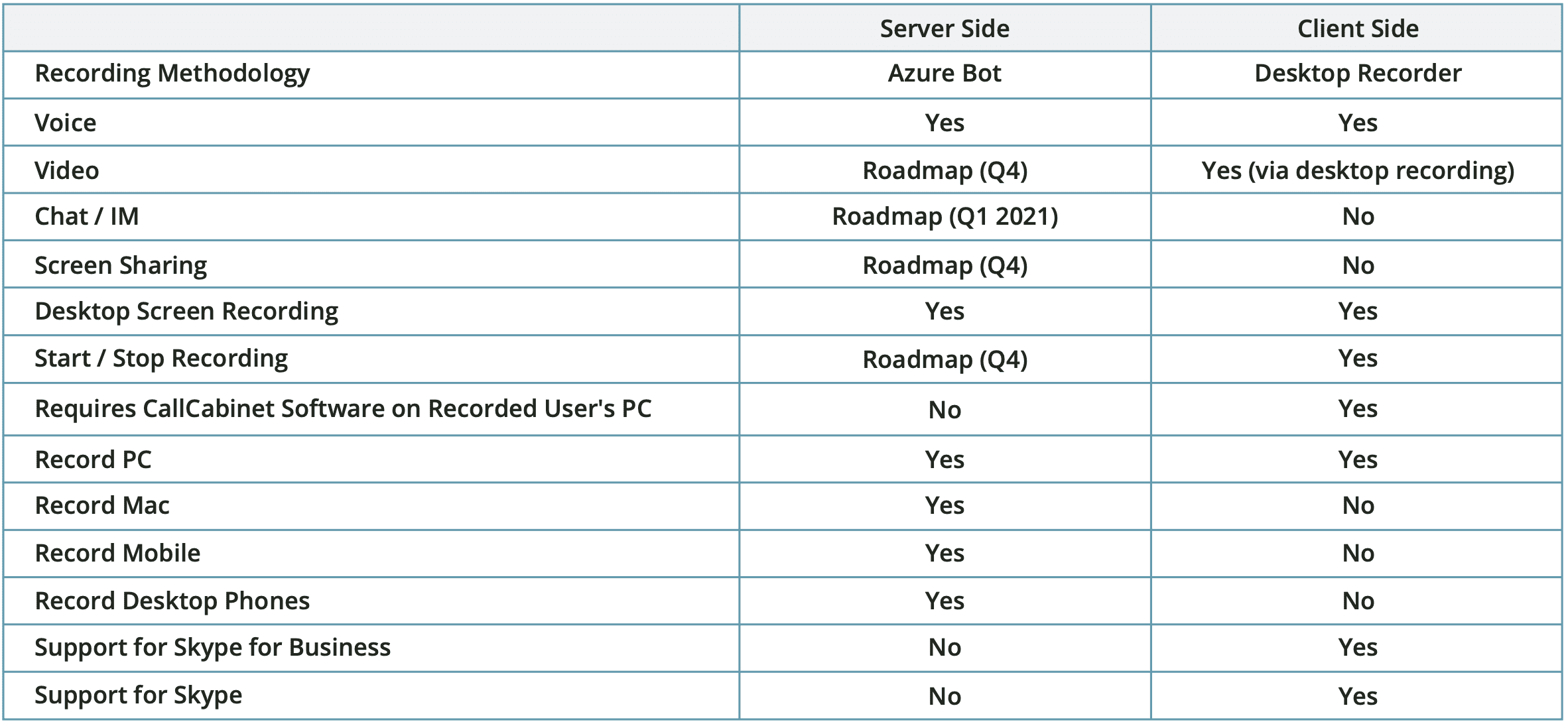 If you have any questions or want to learn more about recording your Microsoft Teams calls with Atmos, contact us at www.callcabinet.com.