Do I Need PCI Compliance for My Cisco-Based Call Center?
You have a call center powered by a Cisco call solution, and your business records credit card, account, and personal ID numbers inside the calls you take. The Payment Card Industry Data Security Standard directly impacts your operation, so yes, PCI DSS compliance for your Cisco call center is at the forefront of your needs. For decades Cisco has been the backbone of business telecommunications and Cisco services insurance companies, trade floors, and healthcare operations. As your business depends on Cisco to speak with patients, insurance customers, investors, and a host of other clients, you're recording each conversation for quality and training purposes.
I'm a Service Provider; what about PCI Compliance for my Cisco-Based PBX Network?
As a Telco, service provider, or carrier, you resell services to your customers, and they need PCI compliance for their customer service centers. But having to build and maintain a 3rd party processing and storage facility to provide your customers with PCI compliance will greatly increase your operational costs. And, because your PCI support network is on-site, you now have to factor in the cost of yearly maintenance. Having to pitch a costly service upgrade with minimal profit margins makes offering PCI compliance a non-starter for many service providers. 
Nonetheless, whether you're a service provider or a company dealing directly with end customers, you likely need an affordable solution for all those sensitive numbers found in your recordings. Avoiding fines and penalties from PCI DSS violations doesn't have to be a profit-eating necessary evil; at least not once you shed the heavy hardware requirements. 
Solution: Cisco PCI Compliance through the Cloud
Personal customer information (credit/debit cards or personal ID numbers) runs through your Cisco network every day. Meeting PCI DSS compliance requires the party recording calls containing PCI data to redact or "mask" that data from all audio and text records. An add-on platform that records and processes all your Cisco calls in the Cloud solves both your compliance and hardware concerns. 
But Atmos offers far more than just compliance recording. As a complete customer service platform, Atmos provides analytics and quality assurance tools through the same interface, but since we're talking mainly about Cisco PCI compliance, let's demonstrate why a Cloud solution is the clear winner in this space. PCI compliance used to be a manual operation. This means the agent had to trigger a PCI function during calls that would disable recording while the customer read off any sensitive numbers. Or, much worse, recordings had to be altered after they were made. None of this was efficient, and all of it was subject to human error. 
Atmos uses AI to detect number strings and can automatically scrub recordings and speech-to-text transcripts of sensitive customer data. When redaction is triggered, Atmos will disable that segment of the call, making that data inaccessible to data thieves. 
The image below shows how Atmos masks redacted data.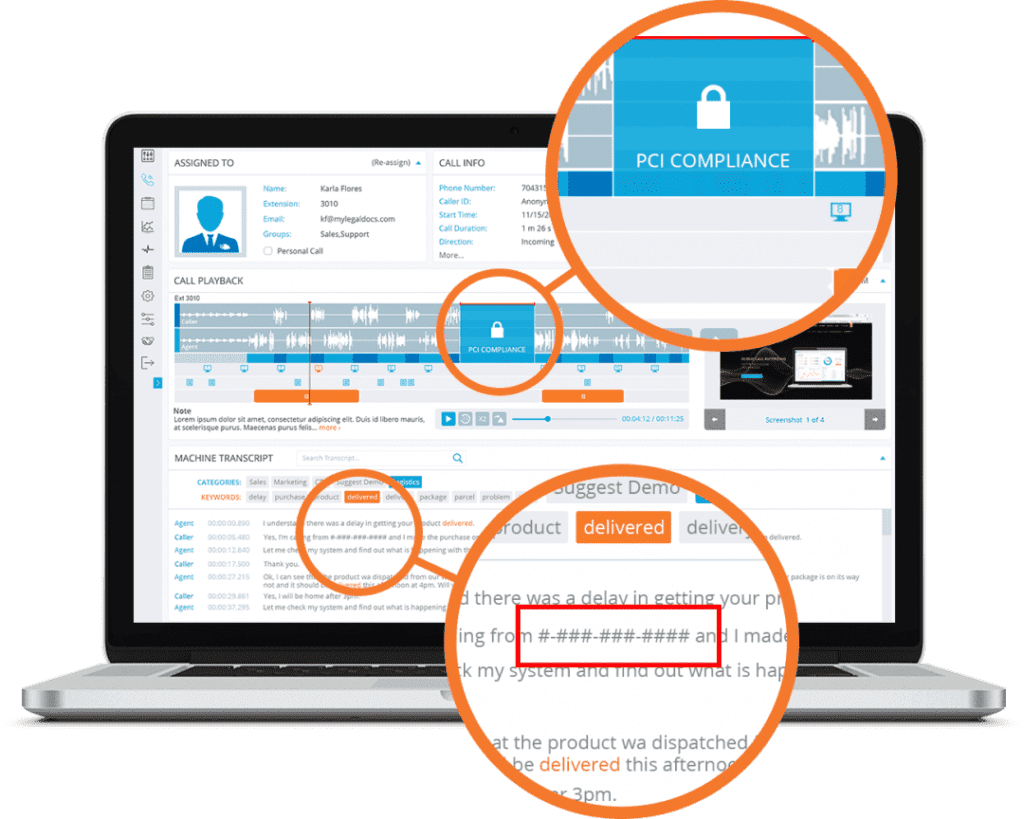 PCI Data Security For Cisco Users
Your Cisco network services trade floors, e-commerce, medical practices, contact tracers, insurance companies and more; masking data is only the first half of the process on the road to PCI compliance. Where and in what way your calls are stored is the next concern. Because data theft is an everyday reality, CallCabinet orders and continues to undergo regular penetration testing and backs up all stored data in every location with a 256-bit AES encryption and a rotating methodology, which means each call is individually encrypted. 
Atmos by CallCabinet is a total compliance platform and is a Cisco preferred partner. That means we not only provide a dynamic platform to every enterprise needing PCI redaction; it means we built our product with Cisco users in mind. Atmos requires no additional hardware or storage because it's 100% Cloud-based. As with many Cloud-based services, Atmos is only a subscription away, and it's rich features are activated with simple license upgrades. 
To learn more about our Cloud-native compliance solution for your Cisco call network, reach out to us today.