Does My Business Need PCI Compliance for Microsoft Teams?
If you've asked yourself that question, the answer is almost certainly yes. Yes, if you capture or record credit card information then you do need PCI compliance for your Microsoft Teams call recordings. Teams has quickly grabbed a large market share of the business communication market, including many users in the financial, medical, and insurance fields. Your business uses Teams to connect to investors, patients, insurance consumers, and a litany of other clients. And, of course, you're recording those calls for quality assurance purposes. 
While secure storage is one part of your call compliance process, what about the sensitive numbers in your call recordings? Are you adhering to your compliance requirements there? Are you risking fines and penalties for failing to properly execute PCI DSS redaction on your recorded Microsoft Teams calls?
Why Do I Need PCI Compliance For Microsoft Teams Calls?
If you use Microsoft Teams to take personal customer information (credit/debit cards, or personal ID numbers) over the phone, you may be subject to The Payment Card Industry Data Security Standard (PCI DSS). In short, this standard requires the party recording and storing any call with PCI data on it to redact that data from the recordings and transcripts. If you're going to be compliant in any industry, your call center and agents need an add-on platform to protect your customer data and your company. 
Atmos Provides Microsoft Teams Recording
and
PCI Redaction
CallCabinet Atmos was built for call compliance and is unique as a call recording solution for Microsoft Teams because it integrates directly into the user's Azure environment. Atmos provides PCI compliance for Microsoft Teams calls through a simple license upgrade. What Atmos does after that is far beyond call recording. As a complete solution, the Atmos platform provides the compliance tools for every industry segment, including PCI DSS redaction. Your Microsoft Teams call recordings can be made PCI compliant using Atmos' AI-driven PCI redaction feature. This means Atmos uses speech detection to identify number strings in the audio file. When a number string is detected, Atmos will lock off that portion of the Microsoft Teams call, encrypting it, so the numbers are thoroughly inaccessible to malicious parties.  Atmos also covers your speech to text transcripts (which you should definitely be using). PCI redaction detected in the Microsoft Teams call triggers redaction in the transcript, as seen below: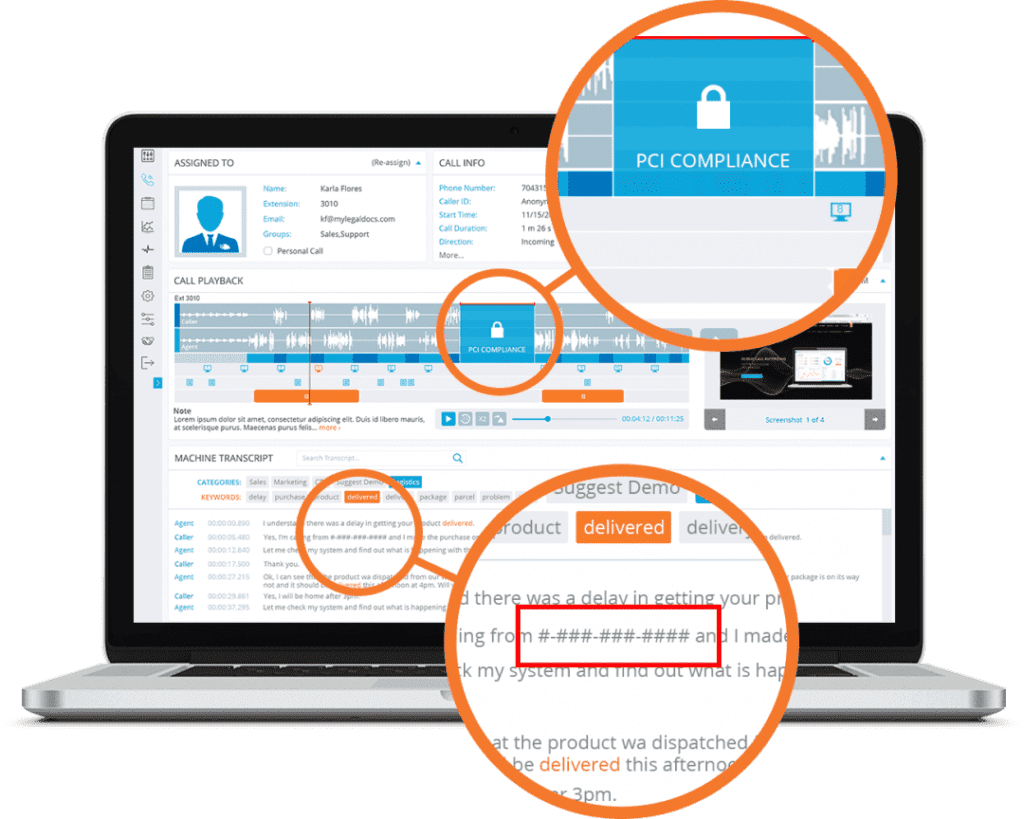 Why Atmos Is The Only Microsoft Teams Compliance Tool You Need
Whether your organization uses Microsoft Teams for the financial, insurance, healthcare, contact tracing industries, or just for taking credit cards, one of your biggest concerns is where and how your call data is stored. Data breaches are a reality every modern business faces. CallCabinet takes security very seriously, which not only means we protect your Microsoft Teams calls but that our platform is also designed to maintain your customer's confidence in your company. 
Our Microsoft call recording process happens directly in the Azure space; it stores the call there as well. This is better than merely minimizing data transit (transit being a vulnerability). Recording the call directly to the secure space it will reside in keeps your call data compliant and incredibly safe. CallCabinet also undergoes regular penetration testing, because data thieves never give up and staying ahead of the bad actors in our business is paramount to keeping our customers compliant.
If you want to earn more about deploying the only Cloud-native compliance platform for your Microsoft Teams communication network, and that includes PCI DSS, MiFID2, GDPR, CCPA, HIPAA, quality assurance, AI-powered voice and speech analytics, and much more, reach out to us today.