KPIs Are Hiding In Your Call Recordings
Key Performance Indicators (KPIs) demonstrate progress toward an intended result. Your call center uses KPIs to focus on operational strategy for performance improvement. KPIs are measurements that help you prioritize what matters most.
At CallCabinet, we practically evangelize for the idea that your call recordings are mountains of gold, full of untapped market research and unfiltered customer sentiment. With the right tool, you can refocus how you look at your call data and reveal concrete KPIs while simultaneously learning where and how you'll need to improve your customer experience. Here are the KPIs hiding in your call recordings.
Call Abandonment Rate
This KPI is vital because it ties directly to dissatisfaction rates while highlighting potential issues with your call center cue. Call abandonment is when the customer disconnects before speaking with your agent. There are several formulas for calculating your Call Abandonment Rate. Still, no matter how you get it, it's crucial to get to the leading causes of abandonment because simply seeing disconnections is only part of the picture. Possible causes of Call Abandonment Rate are:
Agent efficiency/training – leading to longer Average Hold Times (AHT)

Workforce management failure – eg. low staff numbers during your busiest cycles

Confusing or frustrating IVR systems
Advanced call recording platforms like Atmos by CallCabinet can be used to track when and why customers abandon calls analytically. Identifying low performing agents through call scoring and emotive speech detection can help you focus your training efforts on specific agents or a group of agents. Or, your analytics might highlight a large number of people quitting calls at the same point in your IVR menu. The use of screen recording can help you see the on-screen process your agents have to go through to close calls. Perhaps you can remove a repeated, inefficient step that's slowing call progress department-wide.
Average Hold Time (AHT)
Six minutes is the global AHT, and this particular KPI can make or break a customer service department. AHT is essential to calculating staffing levels. Analytics can help here very much the same way they do with Call Abandonment because at the heart of hold time is how long your agents are on calls and why. Maybe you have an agent who needs to be less chatty with your customers or one that has too many on-screen distractions during a call. Call analytics tools assist with solving agent performance issues before they become operational issues. Or perhaps there's a software process that keeps agents scrolling across pages while the customer waits. That's a streamlining issue. Maybe a call script would help your agents close more calls without sacrificing the quality of attention they deliver. Call and screen analysis are the basis of understanding how your customer interactions are occurring. 
It goes without saying that anyone calling a company would prefer zero wait time on hold, so much so that 75% of people say they are frustrated that they can't get a live person on the line when calling customer service. 
First Call Resolution (FCR)
A well-tuned operation closes as many issues as possible on the first call. When an agent successfully closes an issue in a single call, that completion feeds the First Call Resolution KPI.  Having a high FCR is associated with a high level of customer satisfaction. 
Your agents who are well trained and efficient on the phone (while still warm and polite) will shine in call scoring systems. But what about dealing with a downtrend in FCR?
We already know that call analytics can be used to spot agents who need training, but what if agents aren't the problem. Your call recording platform should allow you to search for keywords and phrases that will show you if you've got a product issue. It can also reveal mentions of your competitors, or highlight a lack of customer knowledge that helps you create better manuals and product videos. 
Keeping an eye on your FCR is important as a precursor to customer satisfaction, but remember it can also alert you to product or service issues with the help of call recording analytics. 
Customer Satisfaction (CSat)
While this particular KPI is derived in so many ways, let's highlight how call recording analytics can bring you an unfiltered and authentic customer voice, easily and on an ongoing basis. 
Yes, of course, you can plug a survey into each call that occurs when the agent completes the interaction, but people hang up on those. And yes, email surveys are nice, but they're usually catching a customer in a different state than they were in when they spoke to your agent. 
Call recordings give you the whole, unfiltered and honest-to-a-fault customer experience. The use of analytics on transcripts allows for language processing. Just the words a customer uses can highlight the experience they're having with your product or service. 
You can track words and phrases like cancel my subscription, wrong product, doesn't work, or words like thanks, awesome, really great, buy some more. And with a good analytics engine, you'll have a cross-section of calls that involve the words you're most interested in, but that's not the entire picture for this KPI. Your call recordings are filled with words and emotions that modern AI-driven analytics track through changes in pitch, cadence, and cross talk. Adding the emotional layer to an analyzed transcript helps you pinpoint what words and feelings are coming up frequently together in your call volume. Knowing is far more than half the battle; in this case, knowing how your customers feel about you gives you a clear path to reconciling unhappy customers and bolstering relations with happy ones. 
In part 2, we'll talk about Contact Quality and Net Promoter Score. If you have any questions about ramping up your customer service through powerful call recording analytics, reach out to us today and ask about Atmos, the complete call recording and analytics solution born in the cloud.
---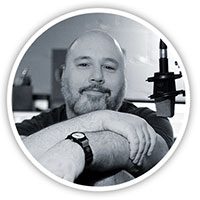 Brian Gocher
Brian is a freelance technology writer and media editor based out of Central New Jersey. He's logged 20 years of experience in the Telecom industry and side-hustles in the record industry. Brian started his career in technology at a company that made analog modems. He migrated to a marketing career in the call recording industry where he learned exactly how and why calls are monitored for quality assurance. These days Brian fuses his skills together to deliver his researched observations about telephony and compliance laws in polished articles and videos. He's also composed the music for a long list of big Hollywood trailers. He does not miss the sound of analog modems but he is endlessly fascinated with phones.