ALLWORX CALL RECORDING, QUALITY ASSURANCE, ANALYTICS & AI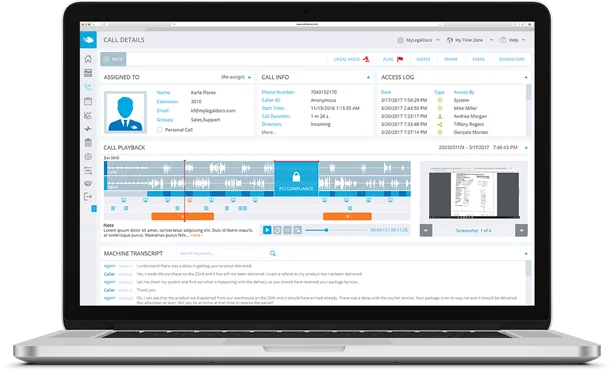 CallCabinet Atmos integrates with Allworx VoIP systems to bring Cloud call recording, compliance, and QA analytics to organizations of any size.

Atmos Delivers Call Compliance To Allworx
For years Allworx has brought award-winning performance to SOHOs, SMBs, and enterprises of all sizes.
Just as Allworx brings cost-effective VoIP solutions to organizations of any scale, CallCabinet eliminates the high cost of traditional call recording and QA solutions by offering Call Recording as a Service. Let Atmos deliver the features that protect your growing company from legal disputes. Our platform will also help you mine for new business opportunities and improve your workforce performance.

Share Your Allworx Call Data Compliantly
Many companies find out too late that sharing call data insecurely breaches compliance and exposes your data.
Atmos is a true multi-tenant solution that securely records and stores the call data of global operations via the Cloud. Eliminate the cost of redundantly deploying high-maintenance hardware over your multi-tenant network with service-based Atmos.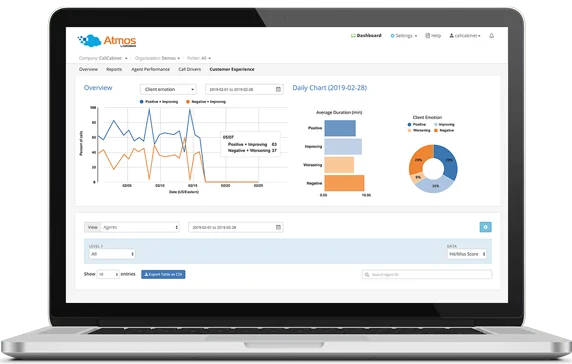 No matter which Allworx phone sets you're using, adding call recording and QA Analytics with CallCabinet couldn't be easier.
Call Recording For Your Allworx Network Made Easy
Allworx brings you VoIP with ease and simplicity. Atmos is deployed on your network via the Atmos VoIP appliance. The Atmos software platform is 100% Cloud-based. This spares your IT staff time wasted on updates and compatibility issues. Atmos requires no external processing power and never strains your resources, even when using powerful features like Agent screen capture. Integrate award-winning call recording instantly with your Allworx PBX over SIP and get back to growing your business.

Call Compliance Legally Protects Your Company
Compliance is meant to safeguard your business and your customer's data.
When a compliance violation occurs over the phone, Atmos helps you to respond proactively to correct the situation. Record your calls automatically or on-demand with 256-bit AES encryption, meeting or exceeding compliance laws (PCI DSS, HIPAA, GDPR, MiFID II, Dodd-Frank and many more).

Quality Assurance for Allworx Users
Put an end to the fruitless task of random call sampling.
Your QA process should be as modern and reliable as your Allworx system. Atmos' voice-to-text transcription allows supervisors to search for keywords and phrases, or focus on particular agents and/or customers. We designed Atmos knowing full well that your company's legal protection is at the top of your compliance needs.

Scalable Call Recording as a Service
For too long, smaller companies have struggled to keep their customer interactions industry-compliant due to the overwhelming cost of hardware-based call recording solutions.
Allworx has blazed a path for SOHOs and SMEs to enjoy the same rich features their enterprise customers enjoy. CallCabinet Atmos singularly offers Allworx users not only simple access to compliant call recording via the Cloud, but also a host of AI-driven features like agent evaluation, dispute resolution, QA, keyword / key phrase recognition and much more. More importantly, Atmos automatically scales up or down to meet call demand instead of locking you into a fixed contract that fails to accommodate the dynamic nature of your business.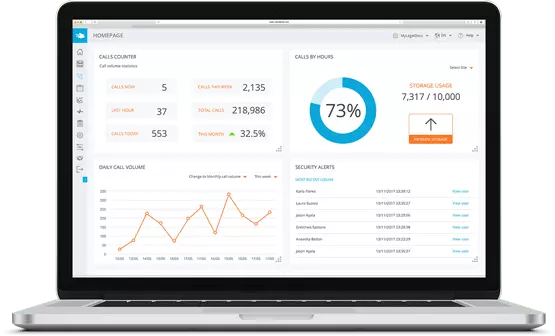 Atmos for Allworx Benefits
IP Phone Recording and compliance for Allworx solutions of any size
Deep AI-driven analytics
Cloud-based recording
Fully customizable reporting
Simple installations
AI-driven voice analytics for sentiment, emotion and content analysis
Complete agent interaction management
Meets GDPR, MiFID II, HIPAA, Dodd-Frank & many other Compliance Regulations
Scale agents and usage up and down as needed
Five-Nines reliability (99.999% availability)
Synchronized agent screen and audio capture
PCI compliance masking
ARE YOU A CARRIER OR SERVICE PROVIDER?
We've developed Atmos with you in mind.
Partner with us