Why Record Microsoft Teams Calls?
If your company is one of the many using Microsoft Teams, you're aware of its powerful collaboration tools for phone, chat, and video. As a platform, Microsoft Office 365 has quickly secured a hold across enterprise communications, especially for phone conversations.
By law, many of these phone calls need to be recorded by order of regulations like PCI DSS, Dodd-Frank, MiFID II, HIPAA and many more. In this article, we'll review the needs and solutions for Microsoft Teams recording.
Call Compliance for Financial Institutions Using Microsoft Teams
Investment firms, banks, brokerages, insurance agencies, hospitals, and enterprises of every kind use Microsoft Teams to connect to their clients. These organizations are subject to multiple compliance laws, most notably MiFID II, Dodd-Frank, MAD II, and PCI DSS. The focus of these compliance laws is accountability surrounding the sensitive financial information passing between customers and organizations. There is also language in these regulations regarding the security of phone calls and meeting recordings. 
Microsoft Teams HIPAA Compliance Recording
As in the financial industry, healthcare and insurance phone conversations are regulated under HIPAA and other compliance laws. HIPAA's regulations are aimed at reducing medical fraud and protecting patient and customer privacy. 
With mobile support agents becoming more commonplace by the day, recording security has become a significant concern in relation to HIPAA. Widespread use of the Teams platform has forced the question 'Is Microsoft Teams HIPAA compliant'? The answer lies in the method used to make Microsoft Teams record calls. Yes, Microsoft Teams can record meetings and calls, but HIPAA compliance has redaction and storage requirements beyond the features of Teams. 
In general, meeting compliances requires a platform built to address these regulations specifically. Your call recording platform stands in a perfect position to facilitate your compliance needs.
CPPA, GDPR and Microsoft Teams
Both the General Data Protection Regulation (GDPR) and the California Consumer Privacy Act (CCPA) impact consumer consent of phone recordings. These regulations also layout the consumer's right to recorded audio, and businesses must be prepared to deliver customer recordings on-demand.
While GDPR compliance covers European Union territories, CPPA applies only to California. However, both regulations affect any enterprise or individual doing business with companies in the EU or California. With the increased global use of Office 365, both GDPR and CPPA concerns have grown, especially around spoken consent on calls and call recording storage. Microsoft Teams security is built in the Azure fabric, but still requires a method of securely sharing recordings. Your chosen call recorder must include the ability to encrypt and compliantly share call audio.
Call Recording for Microsoft Teams Compliance Requirements
The above compliance laws require your institution to do the following:
Document all calls that may include financial transactions by recording

Verbally notify clients that conversations are being recorded

Securely store all communications for a minimum of 7 years

Redact personal consumer information (credit card, phone, and social security numbers)

Rapidly retrieve all call recordings connected to a transaction or across a specified time period
Microsoft Teams Call Recording Methods
There are several ways to approach recording Microsoft Teams calls:
Cloud-native recording application
In this scenario, MS Teams calls are captured by a Cloud-native solution offered by specific Microsoft partners. In a native cloud solution, calls are captured in the MS Teams Cloud by a hosted Cloud recorder. Because this method captures all recordings into a Cloud-native environment, scalability and throughput are unlimited, and security is military-grade.
On-premise call recording
In this method, servers are spun up on the enterprise premises to host a call recorder platform. Data may be stored on-site or in the Cloud.
Should I record my Microsoft Teams calls on-premise or in the Cloud?
In the past, the only solution to capture call recordings was with on-premise servers. However, there's been a move away from on-premise solutions toward agile and safer Cloud-native recording platforms. The recording of VoIP systems has inspired new Cloud-based applications that far surpass the basic voice recorders used previously.
On-premise solutions can work with Microsoft Teams, but deployment is challenging because it requires the physical upkeep of servers and virtual machines. These both require hardware service and software updates, especially when their operating systems reach the end of their life cycle. Depending on the size of your operation, an on-premise solution can become cost-prohibitive. 
A Cloud-deployed call recording solution acts as a VoIP call recorder without the need for on-site hardware or additional software on the phone. Cloud-native systems perform above and beyond the capabilities of the dedicated Microsoft call recorder in Teams. Our Atmos solution bundles call compliance recording with AI analytics, QA and secure encryption inside a flexible monthly SaaS, which has an enormous positive impact on operations expenditures.
What do I need to start recording Microsoft Teams Calls?
Using CallCabinet Atmos as our baseline, you'll need the following items to record Microsoft Teams calls. 
With these items prepared, call recording deployment then must be managed between the solution provider and your company. In our tests, Atmos is operational within hours whether your call operation is in-house, staffed by remote agents, or a combination of the two. We're able to capture all call scenarios across any Teams enabled device. This highly secure method has the benefit of needing only one installation instead of multiple installations across each agent extension. 
Yes, you should record Microsoft Teams calls
As the workforce using Microsoft Teams increases, especially as a solution for mobile employees, the risk of compliance failures also rises. The Cloud has made it possible to limit the amount of hardware you need to personally maintain, and at the same time, has increased our ability to analyze customer experience and agent performance. If you're interested in learning more about recording Microsoft Teams calls, reach out to us today to schedule a free demo and consultation.
---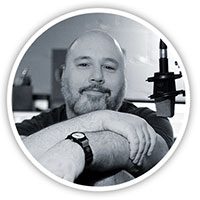 Brian Gocher
Brian is a freelance technology writer and media editor based out of Central New Jersey. He's logged 20 years of experience in the Telecom industry and side-hustles in the record industry. Brian started his career in technology at a company that made analog modems. He migrated to a marketing career in the call recording industry where he learned exactly how and why calls are monitored for quality assurance. These days Brian fuses his skills together to deliver his researched observations about telephony and compliance laws in polished articles and videos. He's also composed the music for a long list of big Hollywood trailers. He does not miss the sound of analog modems but he is endlessly fascinated with phones.