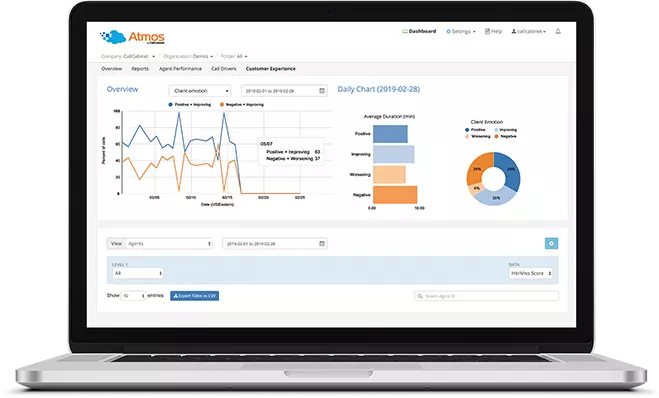 Next-Level Agent Performance Evaluation

In the past, contact centers conducted agent evaluation by listening in on a small sampling of calls (generally less than 2%) in the hope that they would be representative of an agent's total performance. Now, CallCabinet's Atmos call recording and advanced voice analytics applications allows supervisors to see 100% of an agent's performance picture.
Vital Business Intelligence Features
Understanding and evaluating agent performance is essential for call centers looking to improve conversion rates, quality assurance, response times, customer experience, and compliance. The Atmos platform goes well beyond call recording to provide a robust and comprehensive toolkit of invaluable agent evaluation features.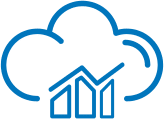 Custom Reporting
Atmos comes ready with a variety of helpful report inquiries to assist in evaluating agent performance. Additionally, Atmos allows supervisors to define their own criteria and create reports based on the KPIs that are most relevant to their business and industry. Agent performance can be evaluated for time on call, script adherence, disposition rate, first call resolution, compliance, and more.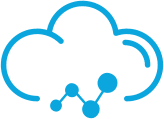 Workforce Performance Analysis
Regardless of individual agent performance, your overall call center agent performance is going to rely upon how your entire workforce adheres to your scripts and policies. Atmos' data-rich analytics allow you to evaluate agent performance manually or automatically. You can measure agent performance individually or against others, reveal gaps in skill, identify performance trends, and gain vital insight to guide your decision-making and coaching processes.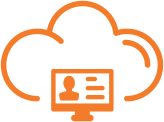 Agent Screen Capture and Recording
Hearing what an agent says only provides part of the performance picture. For greater context, Atmos also allows supervisors to see what agents are looking at on-screen during their calls. Screen recordings are synched with audio so that agent performance can be monitored and evaluated holistically.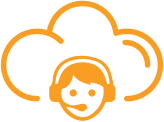 Custom Agent Scorecards
The most straightforward way to evaluate agent performance is to measure how well they adhere to company policies. Our visually intuitive Score Card Creator allows supervisors to easily design scorecards that weigh performance against customer service standards and policies to determine how well agents follow the rules.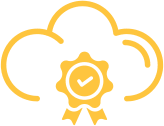 Call Quality Assurance
The Atmos QA Supervisor provides supervisors with a 360º view of your company's call experience. Just like your customer, your agent has a call journey, and Atmos unleashes the same analytical power on both sides of the call. Using the Atmos QA Screen, supervisors can view and listen to the call, see the agent's desktop which is synched with the audio, see notes taken by the agent, add notes to the call , and score agent performance evaluations.
Performance Evaluation Analysis for Training
Enhancing call center performance is part of every manager's wish list. Fortunately, Atmos' rich, AI-driven voice analytics allow supervisors to mine call recording data for a wealth of real-world materials that can be used in training new agents and improving agent performance.
Evaluating Call Sentiment

Atmos' AI-driven voice analytics not only show what's been said on a call, it can also reveal what was felt. The Atmos AI uses speech pace, tone, and word choice to fill in the emotional context behind what is said by both customer and agent.
Agent Performance Breakdowns

The ability to apply sentiment data to a call not only allows calls to be filtered for specific emotional content, but also allows them to be dissected this way. Track changes in sentiment throughout the course of a call to show agents and trainees exactly where a call goes awry, or how a sale was made. The Agent Performance Application uses AI to classify how an agent responds during a call and breaks down in detail specific KPIs that aid in improving the Net Promoter Score.
Setting Agents Up for Success

Agents perform best when they know what's expected of them. Atmos' agent performance evaluation and AI Applications can be used to create best practices, show trainees how to implement them, and how calls can break down when policies aren't followed. Agents and trainees will also be motivated by the level of complete scrutiny Atmos provides to perform more consistently and compliantly.
Proud recipient of these awards from respected industry associations.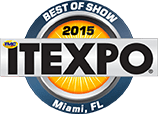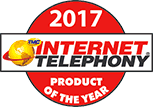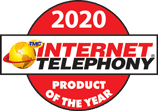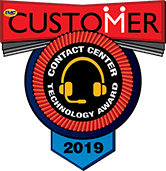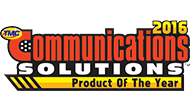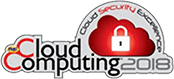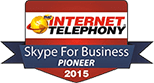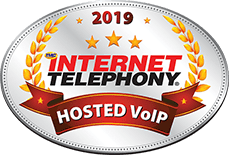 ARE YOU A CARRIER OR SERVICE PROVIDER?
We've developed Atmos with you in mind.