Now Atmos Provides Enhanced Quality Management and CX Insight
BOCA RATON, FL (June 10, 2019) – CallCabinet, a leader in cloud-based call recording, quality assurance, and AI analytics announced today the release of a broad range of new AI-driven analytical features for Atmos, Call Cabinet's popular Cloud recording platform. Atmos's new features are driven by advanced conversation interaction and emotive voice stream engines that dissect recorded calls, organizing data based on word content, sentiment, and emotion.
"Using Atmos' voice analytics in conjunction with our QA randomizer offers users a far deeper understanding of the customer experience," stated Ryan Kahan, CEO of CallCabinet. "Supervisors will no longer sample calls randomly. They'll use Atmos to sample a range of calls focusing on emotion and sentiment. They'll find that using Atmos' new features provides unparalleled clarity regarding employees and customer interaction," said Kahan.
With Atmos' new tools, call center managers will greatly benefit from:
Conversational translation of the call (going deeper than simple transcription)
Speaker recognition (vital for dispute resolution)
Keyword/Keyphrase search (enabling trend detection and rapid response)
By offering Atmos as a SaaS, CallCabinet provides a suite of customer experience analytics to organizations of any size without a major investment. Pricing is scaled via a monthly subscription based on the consumption rate. Atmos continues to establish CallCabinet's disruptive business model within the customer experience and compliance recording software industry. Kahan says, "We at CallCabinet set out to shatter the burdensome costs of the compliance industry by providing call recording as a service platform and not a costly hardware-based contract commitment. Atmos' new analytical feature-set uniquely offers our partners a competitive, customer enriching solution."
Atmos is offered in two packages, both of which include speech-to-text translation, sentiment and emotion analysis, the Atmos QA Randomizer, keyword/keyphrase search and speaker identification. The enhanced package includes voice analytics featuring dashboards for agent performance, call drivers, and customer experience (customizable to customer needs). Additionally, the enhanced package allows users to add custom word libraries to identify medical terms, compliance disclosures and more. Atmos PLUS's mines call content for trends, deeply analyzing the customer journey.
"Atmos greatly empowers organizations to fully understand why and how customers are doing business with them. Atmos' new feature-set offers an unprecedented value over costly, on-premise solutions" stated Kahan.
---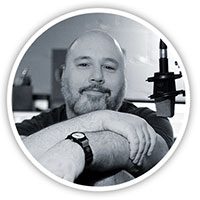 Brian Gocher
Brian is a freelance technology writer and media editor based out of Central New Jersey. He's logged 20 years of experience in the Telecom industry and side-hustles in the record industry. Brian started his career in technology at a company that made analog modems. He migrated to a marketing career in the call recording industry where he learned exactly how and why calls are monitored for quality assurance. These days Brian fuses his skills together to deliver his researched observations about telephony and compliance laws in polished articles and videos. He's also composed the music for a long list of big Hollywood trailers. He does not miss the sound of analog modems but he is endlessly fascinated with phones.