With Atmos PLUS you can see how employees are communicating with customers.

Atmos PLUS gives you a 360 degree view of customer touch points and allows you to track how employees handle specific customer situations, interactions and day-to-day activities, all from one screen!
An All-In-One Customer Experience
Voice Recording
Screen Capture
Employee Evaluation
Employee Training
Employee and Supervisor Notes
Compliance Support
Call Tagging
Call Detail Information
Record

using our award winning technology

Encrypt

to meet global compliance

Store

in a network of global data centers

retrieve

with our secure user interface

Evaluate

& easily monitor your employees

Report

& analyze with reports & analytics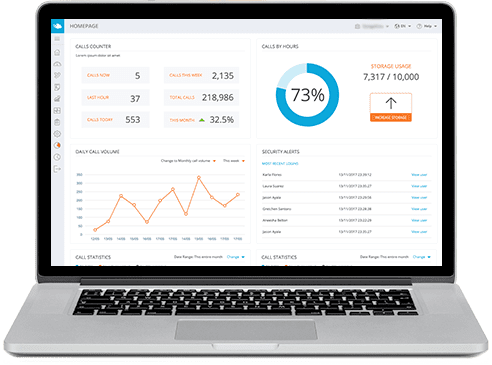 ATMOS PLUS
Benefits
360 degree view of the customer experience
Improve customer service and loyalty
Create measurable employee performance incentives
Resolve customer issues quickly and effectively
Gauge employee performance through interaction management
Create an employee training program
Adherence to PCI Compliance
Low cost, pay-as-you-grow!
Key facts
[one_half]
Enhanced voice recording
Fully compliant
No additional hardware required
All calls securely recorded
[/one_half][one_half_last]
Fully redundant and backed up
99.99% availability
Unlimited growth potential
Cloud-based HTML5‐driven
[/one_half_last]




Atmos Call Recording is a multi‐award winning application developed by CallCabinet, market leaders in enterprise voice logging and call recording solutions. Our knowledge and expertise in the enterprise provide the market with a first of its kind, cloud-based COMPLIANT and secure call recording solution. Whether calls need to be recorded for staff training, dispute resolution, compliance or security reasons, Atmos provides complete flexibility, scalability and unlimited storage of calls and other sensitive data without additional hardware or installation services. All calls are stored in a 256-bit encrypted format, with the original file preserved in its original state with a rotating encryption methodology that is unique and
specific to each individual call. This makes all recordings 100% compliant with regulations and legislation. All calls are stored in our cloud servers and are not only backed up, but have a redundant option across multiple servers and geographical locations. Atmos supports multiple time zones, multiple recording locations and the ability to search, sort and locate calls within seconds. Whether there is 1 location with 5 extensions or a nationwide infrastructure with multiple branches and millions of calls, our complaint call recording solution can do the job.
Specialized Atmos solutions
Atmos has a revolutionary solution irrespective of the size of the organization or the recording needs. Atmos integrates seemlessly with Skype for Business, Asterisk and mobile calls. CallCabinet is constantly developing new features and functions for Atmos as requirements are identified. Take us for a Test Drive and find out how you can join the call recording revolution!
industry Recognition
A few of the industry awards we have recently received.