A WORLD CLASS CONTACT CENTRE CALL RECORDING AND QUALITY MANAGEMENT SOLUTION

The demand for cost-effective and reliable phone recording suites is on the rise. The need for higher standards of service and support, coupled with the challenges of corporate liability and regulatory compliance is driving enterprises to invest in applications that can help drive customer loyalty while meeting regulatory compliance. With Carbon, enterprises can invest in best-of-breed call recording and quality management applications.
Carbon combines features such as call scoring, screen capture, note capture and proactive alerts to provide a synergistic all-in-one solution that enhances an organization's ability to listen and understand customers' wants and needs;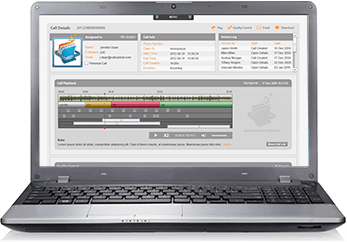 ensure service level goals are met and maintained and increase call center productivity.
The results is a call center solution that helps streamline processes, improves the customer experience, and maintains the enterprise liability and compliance control; resulting in increased customer retention, sales and profit.
Record

using our award winning technology

Encrypt

to meet global compliance

Store

in a network of global data centers

retrieve

with our secure user interface

Evaluate

& easily monitor your employees

Report

& analyze with reports & analytics
Key facts
Fully compliant premise based call recording and agent evaluation solution
Full functionality or optional modules as you grow and require more
Early warning alerts to prevent issues
SLA and full support options
Carbon features
[one_half]
Liability Recording – Mitigate risk by allowing for fast retrieval and access to all calls to ensure that an accurate record is kept and liabilities minimized.
Policy Compliance – Monitor and score your agents / employees to ensure that both internal and external policies are being adhered to.
Quality Assurance – CallCabinet's extensive quality assurance module will allow you to get the most out of your team and provide a fast ROI.
Dispute Resolution – Easily resolve disputes by recovering and managing exact records of your telephonic communication.
Employee Evaluation – Call Cabinet's unique tools allow for easy scoring and grading of your employees and for fast identification of areas needing improvement.
Screen Capture – See exactly what your employees were doing throughout the conversation, with easy access to both notes and screenshots.
[/one_half]
[one_half_last]
Personal Training – Use our software to identify areas of concern that require additional training; small amounts of training in the correct areas could be critical..
Advanced Reporting – Easily report on all aspects of your call centre, from number of calls to agent, supervisor and team performance.
Proactive Alert – Carbon will alert you before a problem arises, allowing for proactive action on potential issues.
Remote Link / Multi Tenant – In many organizations that have multiple branches, the need has arisen to consolidate call recording and quality management records at a central location for security and optimization purposes.
PCI compliance – Carbon stores recordings in a 256-bit encrypted format to ensure that original recordings cannot be tampered with, thus protecting stored records. Carbon's PCI module mutes out the recording and screen capture while the caller provides personal credit information.
[/one_half_last]
industry Recognition
A few of the industry awards we have recently received.