Compliant Mobile
Call Recording
for Cellular Networks

Atmos by CallCabinet uniquely provides a Cloud‐based call recording software for mobile that captures calls directly and compliantly on your cellular operator's network.
More enterprises worldwide are using mobile phones for their employees and remote workforces.
However, this presents an enormous challenge for compliance officers and IT departments to ensure that not only are all calls recorded but that they're also compliant. Recording mobile calls on the enterprise side is complex, and up until now has required on-device applications or 3rd party call routing, both of which produce multiple points of failure and are vulnerable to attack.
Our solution resolves all of these issues by capturing mobile calls directly inside the carrier network.

This allows enterprises to not only compliantly record and secure mobile call data, but also to process those calls through Atmos' enhanced benefits: AI speech analytics, PCI redaction, and QA. With Atmos, no customer call to your agents, either at a desk or in the field, will be unsecured, non-compliant, or unanalyzed.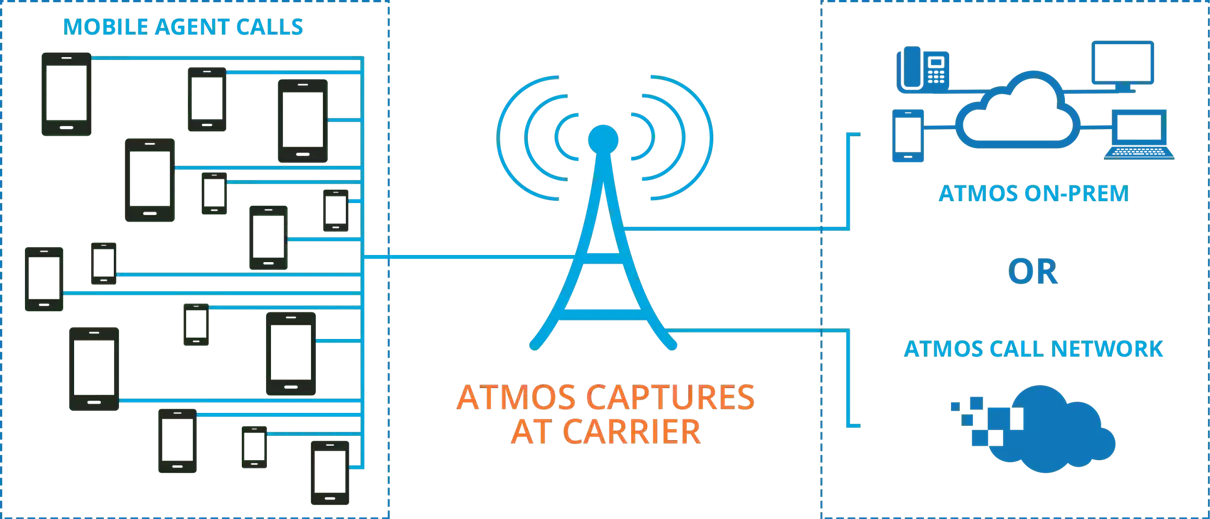 How CallCabinet's On-Network Mobile Call Recording Solution Works
Most mobile call recording services utilize applications to record cellular phone calls, which can cause connection delays, in call-latency, and reduced phone functionality.
Historically this has caused mobile agents to avoid the use of company-provided recording technology, opting for their own phones. This is referred to as "Shadow IT" and it results in a myriad of global compliance breaches that endanger many companies with a significant risk of data theft and legal action.
CallCabinet's unique on-network mobile call recording solution solves the Shadow IT issue while also eliminating the need to purchase and house expensive on-premise hardware.
All calls on company-issued mobile phones route through your selected carrier. But, instead of recording voice data directly on the cellular device or uploading the data to a remote server, Atmos conveniently captures those calls on-network at the mobile carrier while maintaining the highest level of call quality.
As with any Atmos installation, calls are securely stored on the Atmos Cloud Network or on-premises if you prefer.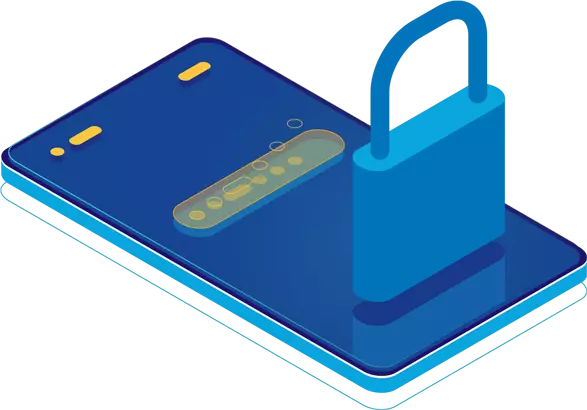 CallCabinet's unique on-network mobile call recording solution solves the Shadow IT issue while also eliminating the need to purchase and house expensive on-premise hardware.
Industries Benefit From Mobile Call Recording
Enterprises (with 100 or more mobile agents) can now compliantly record mobile conversations. Take advantage of Atmos' award-winning cloud-based QA, agent scoring, and AI-powered speech analytics. Whether you have a small field-based sales team or a large mobile support staff, compliant mobile call recording is now easily within your reach.

Remote Workforce
A growing number of organizations have quickly realized the benefits of remote sales teams and support staff.
Without exception, your remote agents are subject to the same compliance laws as on-site employees located in your call center. Every time vital customer data (like credit card and social security numbers) is taken over the phone, multiple privacy and consumer security laws are instantly in play. With Atmos' enhanced benefits, you can protect your customer's data and your business with AI-driven PCI redaction for every call recorded. Don't suffer the catastrophic loss of your customer data by failing to record your calls securely.

Utilities
Utility companies rely on field-based technicians and emergency workers to provide vital services to customers.
Burdensome regulations on utilities worldwide have made call compliance and QA a need, especially regarding customer communication. When dispute resolution involves a mobile call to or from one of your field agents, Atmos' transcripted call recordings are your first line of defense.

Medical Enterprises
The global medical industry is enormous, and every day it depends on the transportation of life-giving medicines, patient diagnostics, and supplies.
Atmos helps you improve your QA practices while helping you achieve full compliance in one of the most regulated industries in the world.
Atmos helps you improve your QA practices
Complete call recording solution for company mobile phones
Secure, encrypted, redundantly backed up
Global compliance adherence across all industry standards
Automatically records, requires no user initiation
Minimal IT involvement; all calls captured at the mobile carrier level
Runs silently—mobile agents experience no difference in call experience
Compliant storage on-premise or on the Atmos Cloud Network
Enhanced benefits of Atmos, AI Analytics, PCI redaction, QA
Proud recipient of these awards from respected industry associations.

















ARE YOU A CARRIER OR SERVICE PROVIDER?
We've developed Atmos with you in mind.
Partner with us