Your business thrives on leads and sales. Your company is probably sitting on a treasure trove of both without knowing it. If you record your calls for compliance and training purposes, then you're not taking advantage of an untapped sales vein. And if you're not recording your calls at all, it's time you started. (Should you need to know more about that, here you go.) This 2-part article demonstrates how you can use your existing call recordings as a prime source of information to grow your business.
Your Call Recordings Are Made of Gold
Your customers, especially the ones that challenge you, are literally handing you actionable intelligence with every call they make to you. Call recordings can help you qualify leads, meet evolving trends, and launch effective campaigns. But, you can't depend on your call staff to mine every call for the riches, they already have a full plate. Enter analytics: the most untapped feature of modern call recording.
Caller: Hi, I need a thing that fits with my widget. It's an old widget, and I haven't found a thing that works with it. Can you tell me if you have a solution, and what the price is?
Your agent understands the caller and goes to work servicing the request. However, your AI engine notices this request becoming a trend because it detects keywords and phrases across all your calls. To your analytics engine, that sentence looks more like this:
Caller: Hi, I NEED a THING that fits with my WIDGET. It's an OLD WIDGET, and I HAVEN'T FOUND a THING that works with it. Can you tell me if you HAVE a SOLUTION, and what the PRICE is?
When your AI detects similar calls, it can alert you to the trend. How many calls are you getting about people needing a THING for that OLD WIDGET? Asking your staff at a weekly meeting about trends is smart, but also fallible. But, letting your AI find the keywords and phrases that are trending with your customers is a windfall. AI detects keywords in your conversation data to produce trends your staff has overlooked. Trends that can be converted into yes, leads and sales.
Why AI?
Is it possible many customers are telling you "no one else can help me" and you don't even know it? In short, yes. That mound of call recordings contains opportunities your customers are straight-up flinging at you. Obviously, nobody in their right mind would attempt to find them manually. AI frees you from having to manually scour calls for meaning. It helps your sales force to increase their productivity. AI converts your call data into a giant customer you can actually talk to. Conversely, think of your analytics engine as the single agent that was present for every call you recorded.
Investing in AI Analytics helps you extract leads like gold from that hulking mountain of data. Agents manually taking notes on clients is a vital practice, but it's still a scattershot way to understand your customer base. Some agents are detailed, others not so much. And if your agents don't have time to share notes with each other (or if they compete against each other) your ability to act is frozen. Add to that the fact that your customer demands are constantly shifting with the marketplace offers your competitors make. We've never needed AI more.
Leads You've Ignored
Changing your angle of view is a time-tested way of discovering hidden truths. Deeply searching your call transcripts with a proper analytics engine allows you to think differently about your business. Here's a scenario for your widget company:
Through your analytics engine, you realize you're hearing the same keywords from callers in close area codes. With a bit of research, you find out that the state of those area codes recently changed a law. Turns out many companies using a product like yours are scrambling to update their systems. You launch a local campaign with your reps and sweep up new customers with your product. That fresh angle opened up a massive sales lead and provided an analytics ROI.
Why AI is Good For Your Staff
AI is not going to replace your call staff. Most people taking the time to call you want to get to a human, not a machine. And, as a proactive manager, you insist that your support and sales members look for trends and opportunities from customer conversations. But… and it's a colossal but, giving your staff too many hats to wear reliably degrades their performance.
Well, you tell yourself, maybe I still don't need to invest in analytics just yet. You figure your weekly staff meeting allows you to collect all your agent's notes. You can wear the trend-spotter hat instead of them. How hard can spotting the trends and potential customers be, you tell yourself? Especially since your staff always reports everything perfectly, always makes notes of relevant keywords, knows the locations everyone is calling from and… Oh, right. They don't really do that. They're busy helping the customer with the immediate issue they called in about. And in truth, that's really the arena you need them to be rock stars in.
AI is good for you and your staff because it unties all hands to be on deck for the task they were hired for. Instead of spending time trying to find leads in your staff's reports, free them up to support your customers and get busy using a product like CallCabinet Atmos to mine for the positive side of call recordings.
In part 2 we'll explore how to turn those same recordings into content for your market presence and future product development.
---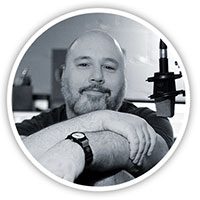 Brian Gocher
Brian is a freelance technology writer and media editor based out of Central New Jersey. He's logged 20 years of experience in the Telecom industry and side-hustles in the record industry. Brian started his career in technology at a company that made analog modems. He migrated to a marketing career in the call recording industry where he learned exactly how and why calls are monitored for quality assurance. These days Brian fuses his skills together to deliver his researched observations about telephony and compliance laws in polished articles and videos. He's also composed the music for a long list of big Hollywood trailers. He does not miss the sound of analog modems but he is endlessly fascinated with phones.